BURMA AT WAR

Note: For reasons described in the Security Announcement (see below), the actual photographs from the exhibit cannot be displayed on the website. The exhibit was first presented at the Burma Action Conference, organized by the Free Burma Coalition, and held at American University in Washington, D.C. (October 27-29, 2001). It is available for display at other venues. There are some sixty photos, mostly 8x12s. They have been laminated in high-quality vinyl and can be hung on any surface. There are also some twenty text boards, or laminated posters. (The major boards are given in the links below.) The entire exhibit requires at least sixty feet of wall space, but ideally up to one hundred.
Also, while the show's visual subject is the war against the dictatorship in Burma, its deeper themes cover all war. It is not meant to be viewed only by Burma activists, or even peace activists. It was created with a wider audience - the general public - in mind. Please contact us if you have access to an appropriate display venue. (For a review of the show, you can contact the staff at the Free Burma Coalition - www.freeburmacoalition.org.)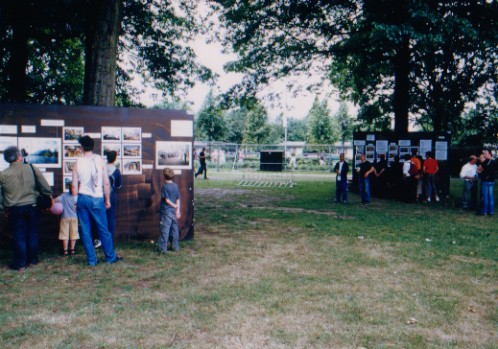 This is a photo of part of the exhibit as it was displayed at the Festival Mundial in Holland, in June 2002. The entire exhibit covered three large billboards and about twenty feet of the back of a wall. Even still, it was a bit compressed - ideally the different photo series would be more spread out.

One point that I made with viewers at the Festival, that really seemed to resonate, is that the people in the KNLA do not want to fight. Many people mistakenly assume that rebels enjoy what they are doing. While this may be true with some rebel movements around the world, which are nothing more than gangs of murderers and thieves, it is definitely not the case for the KNLA (and rebel movements in Burma in general). The soldiers in the KNLA do not want to fight. They want peace. They want to be home with their families and friends, in their villages and farms. But this is not an option. Many soldiers have seen their families killed. That's why they became soldiers. They would like nothing more than to lay down their arms, go home, and start rebuilding their lives. But, they will never be able to do this while the dictatorship remains in power.

- Burma at War title article
- Security Announcement


Part 1 - The Karen National Liberation Army - Special Forces Training Camp
- What they are fighting for
- Camp media policy
- Daily schedule
- No easy answers (1): child soldiers
- No easy answers (2): landmines
- Mission planning
- Drug interdiction

Part 2: Soldiers' Stories
- Soldier questionnaire
- Interview results
- Selected stories - 1
- Selected stories - 2
- Selected stories - 3

Part 3: You Decide
- KIA
- No easy answers (3): capital punishment
- Militarization
- Assistance mechanisms