FEAR AND INSECURITY IN EASTERN SHAN STATE
May 2005

by Saw Takkaw


SPDC Abuses Generate a Cycle of Poverty, Fear, and Food Insecurity in Lahu Villages in Eastern Shan State

(More detailed information concerning the following incidents has been withheld to protect the victims, their families, and their communities. This information can be made available to concerned parties. Further investigation/verification of these abuses by NGO's and human rights organizations is welcomed and encouraged.)

Newly arrived Lahu families to border IDP sites tell of forced portering, seizure of food, rape, and mass beating perpetrated against their communities by the Burmese army.

Forced portering

New arrivals claim that every thirty to forty-five days Burmese troops enter their villages and force adult males to porter. (In small villages this often means the entire adult male population must leave with the army for portering -- causing considerable strain to their communities.) Portering stints vary, but, according to those interviewed, they usually lasted about ten days.

Interviews revealed the following consistencies (these findings are consistent with documentation concerning the use of forced portering by successive Burmese regimes).

Abuses sustained while portering:

1. Severe beatings are meted out to porters who try to rest -- even if they are sick or no longer capable of shouldering their load.
2. Prolonged exposure to the elements, particularly during the rainy season, led to illnesses -- often chronic.
3. Medical care was not provided for sick porters. Sick porters were forced to work despite their illnesses.
4. Porters were inadequately fed -- usually given only small amounts of rice.

Effects of continuous stints of portering to porters' families/communities:

1. Due to continuous portering, adult male household members were often unavailable to:
a. Attend to the needs of family members, particularly those who are sick
b. Maintain their farms and livestock (their primary and often sole means of support). For example, families' crops may be partially damaged or ruined because of lack of maintenance.
2. Upon cessation of portering, porters claim that they were often sick and/or suffering from exhaustion which greatly constrained their ability to attend to their families/farms. (According to those interviewed medical care is not available in their villages.) Adult males returning from portering are not given time to heal or proper medical attention. In addition, sick adult males are not excused by the Burmese army from portering; subsequently, they become sicker -- placing further strain on their families.

Individual testimonies

"Ja S"
Sex: male
Age: 25
Ethnicity: Lahu
Family: wife deceased -- died (possibly of malaria) while Ja S was away portering -- no access to medical care
Education: no formal schooling; illiterate
Occupation before flight: rice farmer
Religion: Christian
Arrived at IDP site: April 2005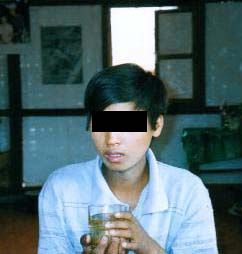 "Once when I was portering in the rainy season (August 2004), I slipped and fell down a steep hill. The soldiers didn't help me get up -- they just marched on top of my back. I stayed wet and hungry for days, and I became very ill. My wife had already died of malaria when I was away portering before. I didn't want to go back home and stay in the village anymore. I was sick, afraid, and alone; so I fled."

"Ja K"
Sex: male
Age: 40
Ethnicity: Lahu
Family: married with two surviving children; four children have died from various illnesses; one baby died while Ja K was away portering -- no access to medical care
Education: no formal schooling; illiterate
Occupation before flight: rice farmer
Religion: Christian
Arrived at IDP site: April 2005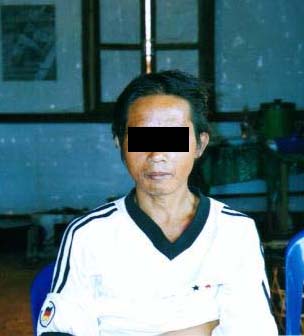 "I just ran out of energy -- I couldn't carry the heavy loads anymore (he estimates that his load [composed of rice and beans] weighed approximately thirty kilograms), so the soldiers beat me. They beat me with the stocks of their rifles. I went unconscious. They thought that I was dead, so they left me on the trail. I crawled for hours in jungle until I found some water. I then fled to this area (IDP site)."

"Ja U"
Sex: male
Age: 26
Ethnicity: Lahu
Family: married with one surviving child; one child died at age ten from "stomach problems" and diarrhea while Ja U was away portering -- no access to medical care
Education: no formal schooling; illiterate
Occupation before flight: rice farmer
Religion: Christian
Arrived at IDP site: April 2005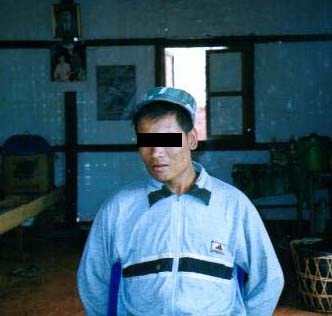 "Constant portering made my life impossible. I am still sick from portering for them in the rainy season. I was wet and cold for days. There was no doctor or medicine in my village, so I couldn't get any help. Now, I am always cold, and I cough a lot. Here (the IDP site), I got some medicine. I also sleep well here. I work for myself now and not the Burmese army."

Seizure of food

In remote villages in rugged Eastern Shan State, there are no social safety nets. If village families lose their food stores/livestock or their capacity to produce food, then their situation becomes dire.

"Ja K"

"Often times the Burmese soldiers would come into my house and take whatever they wanted. They didn't even ask for permission to enter my house. They took my rice, chickens, and pigs. My wife had a nice sarong hanging on the clothesline -- the soldiers even took it. Last year, the SPDC gave one section of my rice field to the local Pyithu Sit (People's militia or small armed groups allied with the SPDC)."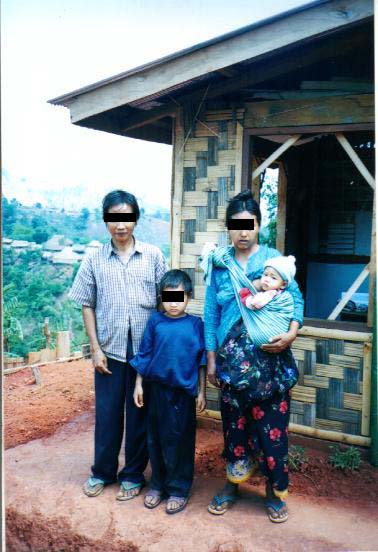 "Ja K" with his family

Effects of continuous portering on village families

"Ja U"

"When I was away portering, my family had to borrow food from the other villagers. My daughter (age ten) became very ill once when I was portering. Her stomach hurt and she had diarrhea. When I returned home, she was already dead -- I didn't even get a chance to see her again."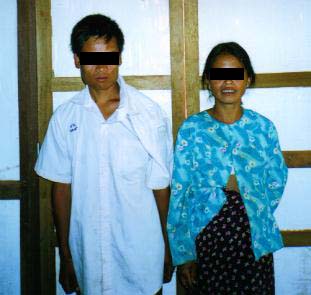 "Ja U" and his wife

Rape

New arrivals from a Lahu village in Eastern Shan State report that an eleven year old girl was raped by three Burmese soldiers while on her way to fetch water. The incident occurred in February of this year. The girl received no medical treatment, and the rapists were not punished by their command. The girl was given 3000 baht as compensation by the local Burmese army battalion commander.

Mass beatings (collective punishment)

New arrivals from a Lahu village in Eastern Shan State claim that on February of this year, Burmese troops beat the entire adult male population of their village. All males over the age of eighteen (including elderly men) were forced to lie on their stomachs and were beaten with bamboo staves. Villagers state that the soldiers had demanded guides to show the troops around the area. Only one of the males in the village could speak Burmese; he had just moved to the village and did not know the surrounding area. Enraged, the Burmese troops perpetrated the mass beating. Villagers claim that such collective beatings are not uncommon in the area. (This writer has also interviewed villagers in Karen State that have reported the same type of mass beatings.) Villagers state that some of the old men were unable to walk for days due to the severity of the beating.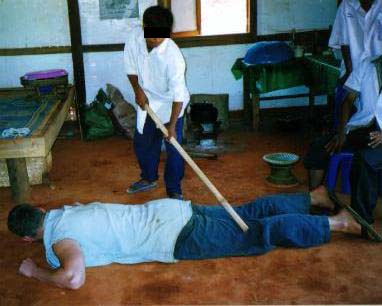 "Ja S" demonstrating how the men in his village were beaten by Burma Army troops