FREE BURMA RANGERS
HUMANITARIAN RELIEF MISSION
TOUNGOO DISTRICT – KAREN STATE
January 2004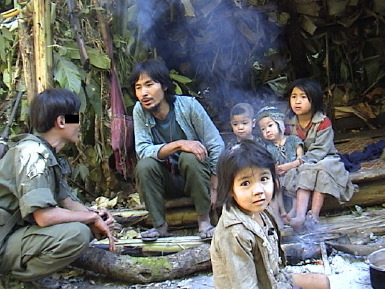 IDP Family in hiding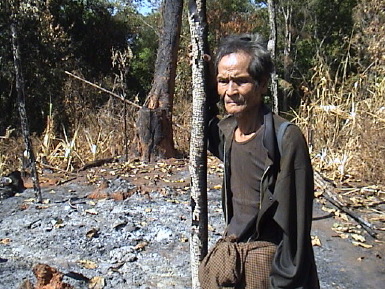 Karen man in front of his burned home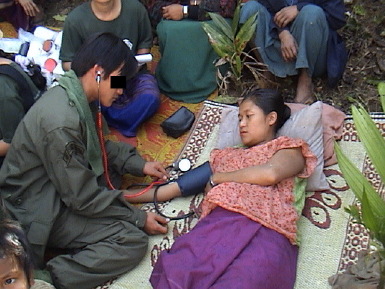 FBR medic treats IDP

IDP situation:

Of the over 5,000 new IDPs from the ongoing offensive, over 2,200 Karen and Karenni IDPs are in hiding in Toungoo District Karen State, 3,500 Karen and Karenni IDPs are in Muthraw District Karen State, and an unknown number of Karenni IDPs have fled north of the Toungoo- Mawchi road. Along with food and medical care, one of the greatest unmet needs of these IDPs is security. Some villagers have tried to defend their families during attacks but they end up having to run as well. The greatest appeal we have heard is for safety and the ability to return home and continue their lives. " I can't go back to farm, we know if we go back the Burma Army will torture or shoot or use us to porter, now I am afraid we are running out of food and if we go on much longer we will die," were the words of one villager, now in hiding. Three Karenni villagers, who were tortured and then let go by the Burma Army, were told as they were forced to leave their homes, "We will cut your ears off because you did not listen and you will dig your own graves."

There are two townships in Toungoo District, Htaw T'htu township and Daw Pah Kho township, and two main roads. One is Toungoo to Yin Thogyi, and Yin Thogyi to Mochi (Karenni State). They finished reconstructing this car road around the 1st of January 2004. The second road is from Yin Thogyi to Bu Hsa Khi. They are still reconstructing this car road using forced laborers.

On December 17, 2003, Burma Army (SPDC) Division 55, LIB 509 went into Sho Kho village and Pwi Khi village, Daw Pa Kho Township, and captured two villagers, took their property and money, as well as taking pigs and chickens. On December 19, 2003, they went into Maw Htu Der village and burned eight houses and killed one 20-year-old villager named Kaw La Htoo. On the same day they also burned Klay Soe Khi village and took all the belongings of the villagers. On January 1, 2004, Burma Army LIB 509 came into Htoo Hsa Per village and burned two houses and took all the property in the village. There are IDPs from Karenni State who fled to Toungoo District, whose villages are Kho Hsa Khi, Pwa Doh, Show Daw Kho, Show Lo and Gay Gaw Per villages. The SPDC troops who entered Toungoo District are Division 55, including LIB 508, LIB 117, LIB 511, and IB 94. Regional troops are IB 39, IB 124, IB 48.

War news:

On December 17, 2003, SPDC - 55 division General Htin Lwin Aung deployed in Bu Kho village. He ordered Burma Army IB 94 led by Colonel Maung Maung Min, Burma Army LIB 509 Colonel Nyunt Win, and Burma Army LIB 512 Colonel Thwei Thie to patrol in Taw Oo District. On that day fighting occurred between KNLA and SPDC troops in Sho Kho village. One SPDC soldier was killed and three were injured.

- December 18, 2003, LIB 509 fought with KNDO in 4th Battalion in Pwe Khi village.
- January 3, 2004, KNDO and SPDC-LIB 511 fought at Oo Pur, one SPDC Colonel was killed.
- January 16, 2004, fighting occurred between KNDO and SPDC in Shel Hta, two SPDC soldiers were killed.
- January 16, 2004, SPDC troops entered Htee Hsa Pu village and shot villagers.
- January 19, 2004, LIB 508 fought with KNLA in Kaw Thay Der area
- January 28, 2004, SPDC fought with KNLA in Hso Hser area two times;
- January 28, 2004, SPDC fought with KNLA at Naw Soe Kaw Khi.
- January 28, 2004 SPDC fought with KNLA at Hto Kho Dei, three SPDC troops were injured.

Interviews:

- Naw xxx
Age: 35
Village: Kho Hsa Khi, Karenni State
Place: Karenni and Toungoo District border
Date: January 18, 2004

"Last month division 55, LIB 508 forced my village and others to move close to Mon Chi car road. And they asked the villagers to carry supplies and threatened them not to support KNPP. Many villagers fled into the jungle and some of them fled into No.2 Brigade. I arrived at the Karen-Karenni border on December 22, 2003." She also said that she has to go back to her village at night time to get food. She has 7 children. Since 2002 she has had to flee into the jungle many times each year. Three of her children died in the jungle because there were no medical supplies available.

"On March 5, 2002 my 7-year-old child died, March 23, 2002 my three-year-old child died, July 4, 2002 my two-year-old child died. Now I only have four children and I do not know what I should do and where I can go."

- Saw xxx
Age: 40
Village: Mon Koe Der village
Date: January 19, 2004

"I was shot by SPDC troops when I was traveling to buy some food from Klay Soe Khi. I have an injured right shoulder. LIB 39, led by general Aung Tin Soe, shot me. I was injured on November 15, 2003. After that they returned to Kler La village, and I went back to Klay Kho Khi village and I was sent to the brigade hospital. I have stayed here for three months, because my wound is not yet healed."

-Name: Saw xxx
Age: 78
Village: Htee Hsa Per
Date: January 27, 2004

"On January 16, 2004 SPDC Division 55 came and burned down my house, so I have to stay in the jungle like this without a house. They often do things like this, they do whatever they want. They were shooting at us when we were in the house, then we fled to different places in the jungle without bringing any food. After they shot us, they destroyed and burned down all of our houses and our property. I lost 300,000 Baht and two rings that were worth 45,000 Baht. Because we left with nothing, we have to stay in very poor conditions like this in the jungle. It is very difficult for me because they treated us inhumanely. I don't know what I should do and I really don't ever want to suffer like this again. They shot us but we did not die, because of God's blessing. I would like to say that the sun has already set for me, but I don't want my young grandson and daughter to suffer the SPDC's persecution as I have anymore."

- Naw xxx
Age: 20
Place: Der Doh village, Daw Pa Kho township, Taw Oo District, 2 Brigade
Date: January 28, 2004

"On January 26, 2004, SPDC, IB 39 Colonel Htin Soe asked 15 of our villagers to clean the car road from Klay Kho Khi to Tha Aye Hta. I had to go and clean for three days, and we had to bring our own materials and food. They paid us no salary. If we wanted to go back home we asked permission and they let us go. It was not only our village that was cleaning the road, but also other villagers in the Kler La area."

- Saw xxx
Age: 12
Date: January 28, 2004
"On January 26, 2004, SPDC-IB 39 Colonel Htin Soe ordered us to clean the car road from Klay Soe Khi to Tha Aye Hta. They ordered the village head man to gather people to go. They did not give us any food. We had to bring our own food and cleaning materials. If we asked permission we were allowed to go back home. They are really bad. Even though we are children they forced us to do the same things as the adults. I totally hate SPDC troops and I don't want to see them any more."

- Saw xxx
Age; 35
Location; Kawthayda Village, Htaw Ta Htu Township, Htawgu District

"On December 28, 2003, I went to the betelnut field with a goat on my way to worship. On the way, I met with Burma Army IB 124 (soldiers) and was forced to carry their supplies to Klaysokee village. They accused me of bringing the goat for the KNU and they hit me two times on my back. Then, they took my goat away. I had to go with them to Klaysokee to carry their supplies to Yethogyi Military Camp. After that they asked me how much the goat cost and I told them 30,000 Kyat. They asked me to buy a pig for 30,000 Kyat then let me go back to Yethogyi village. In the evening at about 5 pm, they came back to me and asked for another 10,000 Kyat and let me go back to my village on December 30, 2003."

- Naw xxx
Age; 27
Location; Kawthayda village, Kawtahtu Township, Tawgu District

"The IB 92 battalion commander Yeh Min Htun came and captured us from the plantation farm. There were around 24 people there at that time. They took us to a place with a bulldozer. They tied up our hands at the back of our necks and pointed the gun at my ear and questioned me about whether two KNU (Karen National Union) members were with us or not. I told them that there were no KNU there. They called out two names. I told them that a long time ago they were working with the KNU but they are not working with them now. They are villagers working on the plantation farm just like me. They tied up six men and three women but the rest were not tied up. They let us go home in the evening when it was dark after questioning us. The SPDC forced the villagers to work and have taken food from the villagers ever since the road construction started. Many villagers have been hurt, handicapped and killed as a result of the hard labor they must do for the SPDC. Moreover, if we can not go to work for them, we are fined 10,000 Kyat per person. This means even new mothers also have to work. We have to work although we are afraid to be in these work places. I would like this situation to be shared with people all over the world and we need people to help us."

- Saw xxx
Age; 50
Location; Shoko Village

"It was December 17, 2003, at about 5pm, when the Battalion commander Kyo Win from SPDC division No. (55) LIB 509, came to Shoko village. The SPDC fought with the KNLA troops at about 6:10pm. Because of the fighting, all of the villagers tried to hide in the jungle. But two villagers, Saw Nay Thaw and Saw Pu Lu, were caught by the SPDC soldiers. The SPDC questioned them and hit Saw Nay Thaw on the back of the head two times. The SPDC stayed in the village and asked these two villagers to take them to Pyekee village the next day. When they arrived in that village, they took property that belonged to the villagers. They took Saw Pu Lu's property and 465,000 Kyat. Then, the SPDC asked Saw Nay Thaw and Saw Pu Luto to carry rice (30 Kg) for them for two weeks."

- Saw xxx
Age; 35
Location; Maw Tu Da village

"The SPDC soldiers came to the village on December 17, 2003, and more soldiers arrived the next day. While they stayed in the village, they stole and ate chickens and pigs from the villagers. On the December 19, 2003, they shot dead Saw Kaw Ler Thu, age 20 and at the same time, they set fire to the whole village and all of our property. We lost so many things. So, we have to hide and stay in the jungle. There were two villagers left in the village and they were caught by the SPDC. The SPDC asked them to carry their supplies for two weeks. Before they left the village, they shot into the church many times with their guns."