FREE BURMA RANGERS
HUMANITARIAN RELIEF MISSION
SHAN STATE - MAY 2004

For the full mission report, visit www.freeburmarangers.org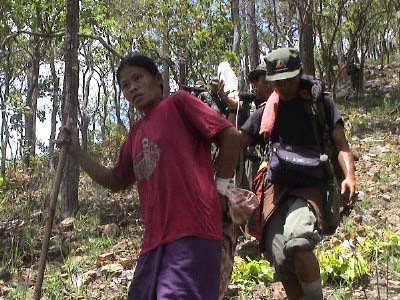 Shan medic assists a sick IDP woman as she flees Burma Army oppression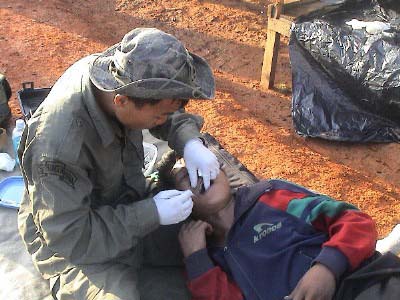 Free Burma Ranger medic treats Shan IDP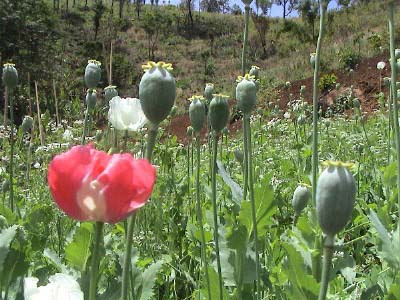 Opium Poppy field in area controlled by joint Burma Army and Wa (UWSA) forces
(All other fields had been harvested, this was a small plot for a second harvest.)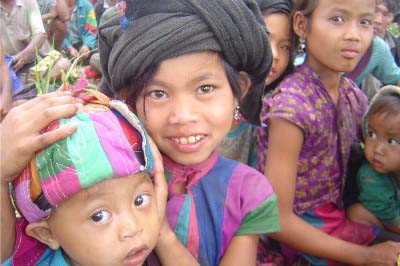 IDP children receiving Good Life Club packs

A joint Free Burma Ranger (FBR) and Shan (SSA) team conducted a relief mission to villagers and internally displaced persons (IDPs), in the Mong Pan area of Southern Shan State from 1-18 May 2004.

This area is delineated to the south and east by the Thai border, to the southwest by the Karenni border, to the west by the Mong Nai area (east of Tounggyi) and to the north by Kengtung District of the Eastern Shan State. The Salween River flows southwest through the southern part of this area.

195 medical patients and 24 dental patients were treated and medicine enough for 2,500 people was left with local medics.

During the mission the FBR team visited six IDP/village sites as well as one forced relocation site. The team documented cases of rape, torture and forced labor as well as Burma Army involvement in the production and trafficking of heroin and amphetamines. The relief mission went to Shan, Pa-O, Chinese, and other IDPs as well as villagers living under the Burma Army and UWSA rule. IDPs and villagers received medical treatment, good life club packs, cassette tapes and tape players, Bibles and hymnals and educational supplies.

The mission area was from Jew Kaw in the east, to Kang Pha in the west (northeast of Ho Mong, Burma), and north across the Salween River to the Mong Pan area. In this area the Burma Army and UWSA exercise joint control over the population as well as the growing of opium and the manufacturing of heroin. There is one main dirt road that runs from Ho Mong in the west north above the Thai border and east to Mong Hta and Mong Kyawt and on to Mang Hsat and to the Thai border vicinity Piang Luang. Joint Burma and UWSA units are stationed along this road as well as in outposts in the surrounding mountains.

In most villages at 3,000 foot elevation or above, opium is grown. This opium is taxed yearly by the Burma Army and transported along the main dirt road east through Burma Army and UWSA outposts to heroin refineries at Kang Pha, Mong Htaw, and Mong Kyawt. These labs are operated by Chinese technicians (mostly from Khun Sa's defunct Mong Tai Army - MTA), and guarded by Burma Army units as well as the UWSA. There are heroin and amphetamine laboratories in Ho Mong under joint control of the Burma Army and SSS-South Shan State army-under the ethnic Wa leader Maha Ja. Across the Salween to the north, most Shan people have been forcefully relocated to Mong Pan and Mong Ken Tong (a forced relocation site north of Mong Pan), leaving mostly Lahu, Lisu and Pa-O highland villages. These villagers are ordered to produce opium by the Burma Army and are taxed annually.

The general situation is bleak, with over 15,000 Shan displaced in this area (there are more than 300,000 total displaced in the Shan States), and much of the remaining population engaged in the production of narcotics under the control of the Burma Army, directly or through the Burma Army controlled UWSA and SSS. The Burma Army taxes each village for its opium and directly oversees two of the three heroin labs in the area (Mong Htaw and Mong Kyawt). The SSA have stated that they are not involved in the narcotics trade and have a policy to fight narcotics production and trafficking. The SSA provides a safe haven, medical assistance and education for many IDPs and they are the major organization assisting the people of this area.

Interviews with IDPs:

Note: All names are on record and are available for verification. They are withheld in this report for the safety of the people who are still living under the control of the Burma Army.

1) Rape, forced labor, murder.
Name: Sai XXXXX
Age: 41 male
Ethnic: Pa'O
Village: XXXX XX X
Occupation: farmer

"A few years ago Burma Army soldiers raped a deaf and dumb girl here. Now she is very troubled and afraid."

"One of my family members must porter once or twice a month. I myself was last forced to porter 3 years ago, but this year I had to use my horses to carry loads for the Burma Army."

"I hope and want to live freely and also want to do my agriculture freely."

"Last year a man from this place (forced relocation site) was accused by the BA of helping the rebels. He was beaten to death. His name was Ban Tha and he was 43 years old.

2) Murder, forced relocation, forced labor and torture.
Name: XXX XXX
Age: 60 female
Ethnic: Pa'O
Village: XXX XXX (IDP originally from Bet Heng)
Occupation: farmer

"In the village of Kang Po He they would often come in and shoot their guns in the air and about six years ago they shot a four year old child."

"Now they order forced labor to help build their camp in XXX XX village. They also force the villagers to carry water to them or else be beaten. "I (myself) was forcibly relocated by the Burma Army and given five days to move."

"My son was beaten and forced to wear a horse harness and bear the horse's load when the horse fell and couldn't carry anymore. This occurred last rainy season. He is 24 and his name is XX XXXX".

Her message to the world is "I want the world to help us since we are in trouble and we would like help with the agriculture so we can grow better crops and fruit."

3) Imprisonment, looting and narcotics.
Name: Sai XXX
Age: 29 male
Ethnic: Shan
Village: XXXX XXX
Occupation: farmer

"These are the Burma Army activities - a village headman named Lou Mow was taken by the Burma Army three years ago. He is in prison in Dawng Loi Lo. They also regularly take farm animals either for food or for carrying. They also arrested two women named XX XX and XX XX. They were accused of being wives of SSA soldiers and were imprisoned for seven days. The Burma Army commander's name is Major Thom Yit".

"I want to tell the world that we need no more Burmese troops and I ask for international assistance in this area"

"Also, outside Mong Pan town a pagoda is being built, but behind the pagoda is a methamphetamine factory. Also, there are opium fields in Mai Po, Nong Ler, Pong Pi, and when the opium is harvested the Burma Army comes and collects it.

Interview with a Shan-SSA Soldier:
Name: Sai XXXX XXX
Age: 27, Male
Ethnic: Shan
Occupation: SSA soldier for past two years

His parents fled as refugees to Thailand, but he returned because he wanted to help his people. He feels being an SSA soldier is the best way he can help his people.

"My hope is that if we work hard together to get freedom and justice, that we can all live together in our land."

"My message is to come and see for yourself the real situation and the oppression we live under and you can decide for yourselves."

His parents fled when he was three years old, but he visited Shan State when he was young, and thought "you can die anywhere, better to die helping thousands of my people."

He joined the SSA because they are the best: "Good leader, organization, and objectives."