FREE BURMA RANGERS
HUMANITARIAN RELIEF MISSION
KAREN STATE - NOVEMBER 2004


27 November 2004

The Burma Army is now attacking Karen civilians in Western Karen State, Burma. These attacks have displaced over 800 villagers (IDPs*), who have fled into the jungle with very little food or clothing. The Burma Army is burning homes, rice barns and has destroyed over 2,000 baskets of paddy rice. These attacks are in Naunglybin District, and began November 14, 2004.

* All of the villagers in this area are Internally Displaced Persons - IDPs, and had recently moved back into the area to reestablish the homes and fields that they had lost in 2000. They are now in hiding again.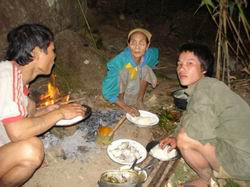 Blind IDP woman in the Ya Aung area. When they fled, one of her sons carried her and the other son carried their food to the IDP hide site.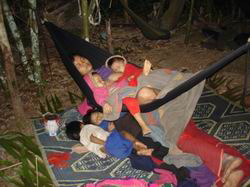 Family from the Ya Aung area in their hide site in the jungle.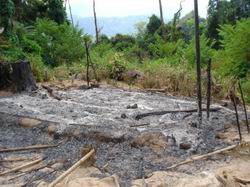 House burned by Burma Army on 18 November 2004 in the Ya Aung area, Naunglybin District, Karen State, Burma.

Burma Army Attack:

At midnight, 14 November 2004, four Burma Army Battalions (LIB 589, LIB 350, IB 57, LIB20 and one troop from LIB 264) launched attacks against villagers (IDPs) in Hsaw Htee Township, Naunglybin District, Karen State, Burma. The four battalions divided into two forces and launched simultaneous attacks in the Ya Aung area and the Htee Blu area. They have burned over 30 homes, destroyed over 2,000 baskets of rice, looted homes and livestock, and driven over 800 people into the jungle. Most of the people had only a one hour warning that the Burma Army was coming and fled in the middle of the night with few possessions or food. Many were sleeping in their fields during this harvest time and could not return to their homes at all. The food situation is the most critical now and the IDPs have used up all the food they were able to flee with. Disease will begin to be a problem as these people are crowded into two hide sites in the jungle with limited space and water.

The Burma Army is now occupying the high ground near the abandoned villages and continues to burn rice barns and homes as well as to eat the livestock the villagers had to abandon when they were attacked.

Possible attacks to the North:

In addition to these attacks there are unconfirmed reports that the Burma Army is planning a similar attack against Karen civilians in Ler Doh (Kyauk Kyi) township, Naunglybin District - north of the current attacks in Hsaw Htee township. Eight porters who were forced to work for the Burma Army escaped from this area and provided this information.