FREE BURMA RANGERS
HUMANITARIAN RELIEF MISSION
ARAKAN STATE
January 2004

Nu Nu Yee, a 24-year old Arakan woman, was tortured by a soldier (Burma Army), and then died of her injuries. Her husband was killed earlier by the military regime's soldiers (in 2002) while being forced to porter for the Burma Army.





Nu Nu Yee's son in an IDP site.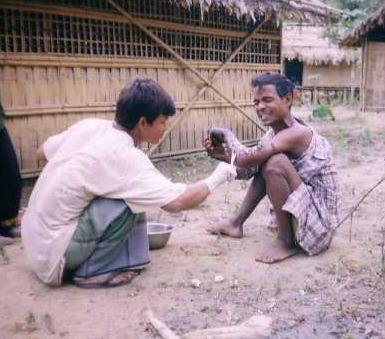 This Arakan man lives in an IDP village. He left his native village to avoid forced labor.

Relief Mission Report
January 26, 2004

The Arakan FBR team went to the India and Bangladesh border in order to study the situation of IDPs who are in hiding. Human rights abuses committed by the SPDC, including burning houses, raping women, destroying IDP shelters and hiding places, looting villagers' belongings, and killing people continue to take place.

Even though this is happening, some of the Arakanese people that we interviewed said the military regime has become afraid to use forced labor due to international pressure and the presence of teams like the Free Burma Rangers.

There are over two million internally displaced people in Burma. There were around 80,000 IDPs in Arakan State in 1992. From 1993 to 1996, 52 Burma Army battalions established themselves in Arakan State. Since that time, the number of IDPs has increased, and now they number 180,000. These IDPs suffer from an insufficient amount of food, clothing, and have unstable, insecure conditions for daily life.

Arakanese IDPs have little hope or help and do not have the opportunity to meet with NGOs, the Indian or Bangladeshi governments. The Arakanese IDPs have only one way to ask for help right now and that is to ask God to bless them.

Due to international pressure, the military regime in Burma says that they no longer use forced labor. However, the FBR teams inside Burma have been witnesses to forced labor still being perpetrated by the regime. The regime is afraid of media attention exposing them and they have now started reducing their use of forced labor in Arakhan State. But, the regime's soldiers still treat the IDPs inhumanely, including killing and raping them, destroying their homes and materials, and taking control of people's homes.

The military regime does not use forced labor in the direct ways that they did in the past, but they are abusing civilians in more indirect ways, such as through opening unnecessary checkpoints, and taking high and/or illegal taxes for their personal benefit. Many of the farms in the areas of the regime's troops have been occupied by the military in order to build camps, and without compensation.

The FBR Arakan Team mission went to Palawa Township and Kyauk Taw Township. This area is located in Northern Arakan State which is bordered by India and Bangladesh. Most are Christians living in this area and the situation is very bad.

There are many IDPs in the region of this FBR mission. The team met and taught some of the IDPs. They distributed medicine, some materials to schools and some money to those in need. The team wished they could give more medicine, clothing, blankets, money, food and other supplies but had no opportunity to do so.

The SPDC (military regime) is participating in drug production and trafficking in Arakan State because they do not have enough funds to support their soldiers. Unconfirmed reports say that near Lapawa Camp they are producing opium. This year, there are reports that the SPDC will produce around 120 kg of opium here.

Formerly the SPDC moved in large columns in this area, but now they are moving around in guerrilla warfare style because they know the villagers don't dare to stay in their villages. The villagers don't stay long in the same place and are scattered around into every possible "safe" area. During battles between SPDC troops and the Arakan Liberation Army, some innocent people have been killed and injured, including women and children. Some women have been raped by Burma Army soldiers and young girls have been forced to get married. Sometimes schools and villages have been burned down. SPDC soldiers invade villages and order the villagers to give them their chickens, pigs and other food without payment and also force them to porter and carry their equipment, food and bullets.

Between the Arakan and Bangladesh border, there is some opium production in the area controlled by the military regime. Some Arakanese and military regime soldiers are participating in the heroin trafficking in Arakan State. There are three main ways the trafficking happens, through Palawa Township to Mizoram State, India, through Palawa Township to Chittagong hills in Bangladesh, and through Maung Daw Township area to Pa Long Chi area in Bangladesh (which is the most common way). Through Mizoram State the quality of the heroin in 70% and the price is Rs 600,000 for one kg, through Chittagong hills the quality of the heroin is 65% and the price is Tk 100,000 for one kg, and through Maung Daw area to Pa Long Chi area the quality of the heroin is 80% and the price is over Tk 100,000 for one kg according to the report of a villager inside Arakan State.

Interviews

1. Date: November 16, 2003
Name: ++++
Age: 30
Occupation: medical worker
Family status: ++++ (wife), one son

++++ has been working as a medic for the IDP villages on the Indian border since 1999. He attended medical training through the Arakan Liberation Party (ALP). He said that none of the IDPs have medical care, education for their children, or security. They really need one primary school and a clinic for their children's basic education and health needs. Because there is no primary school or religious school for children, they have to live like animals. He was born in Kyauk Taw Township. He left his native township in 1994 due to oppression by the military regime (Battalions 374 and 375).

They do not have any contact with NGOs. They are not taken care of by any government. Therefore, most of the children die if they contract serious diseases. There is no medicine for their diseases, so they even die when their conditions are not serious. They do have the opportunity to formally practice their religions as there are no monasteries or churches.

2. Date: November 16, 2003
Name: ++++
Age: 29
Occupation: IDP
Family status: ++++ (wife), one son, and two daughters

++++ is living in an IDP village near the Indian border. His native township is Palawa. He fled his native village in 1999 because he was forced to join the Burma Army. When he was a child he could not go to school because his parents were very poor. He feels for his children, because he wants his children to be educated, but there is no primary school where they live. He worries for his children and he would like any kind of NGO, authorities, or government to open a primary school or clinic in their IDP site.

3. Date: December 14, 2003
Name: ++++
Age: 39
Occupation: teacher
Family status: two daughters

++++ is a teacher in an IDP school. He is a native of Kyauktaw township. He escaped from Burma to India in 1992 while he was being forced to carry military equipment (for the Burma Army) during an operation. Now he is teaching children at an IDP school and is part of the Arakan Liberation Party (ALP). The school is located near the Thrang area, which is in the triangle area of Burma, Bangladesh and India. The school is run with the help of the ALP and the ****. The school needs more support. There are about sixty students total. The students need books or other materials. Almost all of the students' parents are very poor and they are not able to provide for their children. ++++ wishes that more NGOs would give assistance to help the students studying in his school.

4. Date: December 15, 2003
Name: ++++
Age: 28
Occupation: in charge of ++++ clinic
Family status: single

++++ is a medical worker and in charge of a clinic at the India-Burma border. He studied basic medicine, and is helping the IDPs who are living at the border. He has opened up the clinic with the help of the ALP and **** but there is not enough medicine to treat all of the patients. He has a lot of difficulty doing his job because of the lack of medicine and the few medical workers with experience in the area. He needs more NGO support for the people living in the border areas.