FREE BURMA RANGERS
HUMANITARIAN RELIEF MISSIONS
June – August, 2003 *


* Note: The last report is from February. Additional information about the missions is available upon request.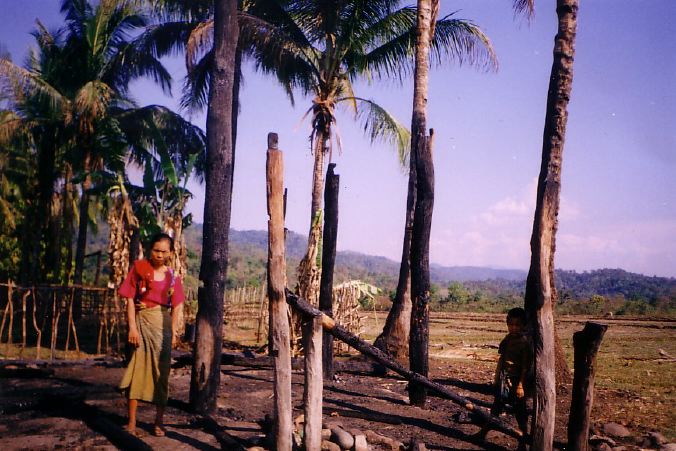 Photo: A Karen villager and her child stand in the remains of their burned home.
(This photo is from the last relief mission described below.)


NORTHERN KAREN REPORT
July/August 2003 Relief Mission to Naunglyabin District, Karen State, Burma

The Kler Lwe Htoo Free Burma Rangers relief team brought supplies, medical care and encouragement to internally displaced persons in Ler Doh Township of Naunglyabin District, Karen State, during this recent mission.

While they were traveling through this area, they treated over 800 patients, distributed educational materials, medicine, emergency cash, food, clothing, bibles, hymnals, and cassette tape players with educational tapes.

The Burma Army troops have been building roads in this district and have essentially cut off any easy travel by the villagers to and from their fields or to other villages. Many reports were collected of villagers being hurt or killed by Burma Army land mines, or being shot at by the Burma Army. Forced portering, confiscation of villagers' personal property and other human rights violations are a common occurrence in the area the team visited.

The team received many requests for support of children who would like to attend school. At present, many children are not able to study because of Burma Army activities and the resultant food shortages. In the 14 villages the team visited, there were only 4 schools operating.

The most recent attack on this area by the dictators' Burma Army troops was on July 22nd, 2003. Troops from Burma Army IB 60 shot and killed a 57 year-old man, stole his rice supply and money, and then continued their patrol.

EASTERN SHAN STATE (LAHU) REPORT
August 2003 Lahu Relief Mission to the Shan States, Burma

New information about narcotics trafficking by the UWSA (United Wa State Army) and the activities of a Lahu relief team are included in this report.

The Lahu relief team conducted a medical and general relief mission as well as providing support to an orphanage and documenting the human rights situation along the Thai-Burma border. This area is also the scene of narcotics trafficking, and the relief team was able to collect the following information.

On 16 August 2003, 26 soldiers of the UWSA and Chinese-Kokang brought over 2 million methamphetamine pills, crossing the Thai-Burma border in the vicinity of Nang Ko Mun, Nawng Ok. This shipment is owned by Law Yi, who is Chinese-Kokang. There are over 100 million amphetamine tablets stored in a cave along the Thai-Burma border. From this location the amphetamines are sent into Thailand.

Four million of these tablets have already been packaged and have been sent across the border in the vicinity of Ho Par Ho Yaw, Loi Lang, Mae Ai and Mae Sui areas (Chiang Rai Province) of Thailand. These movements occurred between 20 August and 31 August 2003.

(Note: This information was sent to us by one of our Lahu relief team members who went inside Burma in July.)

SOUTH-CENTRAL KAREN STATE
June/July 2003 Relief Mission to Dooplaya District, Karen State, Burma

The Dooplaya FBR mission assisted villagers who are in desperate situations and who have been forced to become IDPs. The villagers, particularly in Kya Aye Township, are facing constant military offensives by SPDC troops. Due to the continuous brutal oppression practiced by the SPDC troops these villagers fled and made shelters in the jungle.

In Dooplaya District there are 23,183 IDPs. They have insufficient food, are suffering from serious diseases, and also lack good security. They are always trying to think where they will flee next if the Burma Army (BA) troops come again.

When the team arrived at areas in Wal Raw Township, we found that the SPDC troops had committed the following human rights violations:

(1) A woman was arrested by BA troops when entering a village. She was called to the BA military camp and raped.
(2) A villager was tortured severely by the BA troops.
(3) A villager was arrested by BA troops when entering a village, and then forced to be a porter.

The FBR team arrived at the IDPs' hiding places and held times of worship. After that we distributed bibles, hymnbooks and some clothes to the villagers as well as toys and gifts for the children. In most places we treated the patients for two days. We encouraged and prayed for them to be free from all forms of oppression practiced by BA troops. We prayed to God for blessings for them, and that one day they will be able to live in their own native villages.

The villagers particularly need medical attention. There were many patients not able to leave their beds. Some people even suffered severe diseases to the point of unconsciousness because they did not have sufficient medicine, nor proper food or shelter.

They are always facing a life on the run, fleeing and hiding from the severe offensives launched by the Burmese military troops. In order to lessen their hardship and suffering, we find that the missions like this should continue and increase in these areas. Moreover, those villages which have no schools should have schools established, as well as medical training and vocational training such as agriculture and live-stock breeding.

CENTRAL KAREN STATE
June 2003 Relief Mission to Pa-an District, Karen State, Burma

A Karen Free Burma Rangers relief team went to Pa-an District of Karen State, Burma. They were able to serve and encourage the people there. In the areas they visited, there is increasing pressure on IDPs and villagers to have no contact with outsiders and to follow all instructions given by the Burma Army and their proxy army, the Democratic Karen Buddhist Army (DKBA). The team provided medical care and distributed what supplies they could to the IDPs and villagers.

A taped interview with IDPs done by the FBR team can be summarized as follows. June 15, 2003, IDPs interviewed said that SPDC and DKBA troops came to XXXX village and beat the villagers with their guns. They also killed pigs, chickens, and ducks. They forced the villagers to carry loads for them and to go to their camp at Kaw Tho Kee and to clean it up. They stole the villagers' possessions. Two troops from BA Battalion 703 Column 1 under Htun Htun Win, and #2 Htun Htun Naoung, went to the village and beat the headman. They didn't ask any questions, only beat him. They also kicked his pregnant wife. The SPDC and DKBA soldiers stole 4.6 million kyat worth of goods from the villagers and the village store.

CENTRAL KAREN STATE
February 2003 Relief Mission to Pa-an District, Karen State, Burma
(This describes an earlier mission that has not been publicized before.)

This is the report of an ethnic Karen Pa-an Free Burma Ranger team relief mission to serve the internally displaced persons in Pa-an District, Karen State, Burma from February 4 to April 5, 2003,. The team's purpose was to uplift the IDPs and villagers and remind them they should have freedom and equality, and that they are not forgotten by the world.

The team conducted most of its work in Na Bu township and Paing Kyong Township, eastern Karen State, west of the Dawna mountain range, and opposite Tha Song Yang Township of Thailand.

The general situation the team reported was bleak and continuing to deteriorate. The Burma Army, reinforced by the Democratic Karen Buddhist Army (DKBA), a proxy army of the dictators, continue to force villagers to labor for the army and at least once a year attack the villages in the Dawna area. Sixteen interviews were conducted by this team with villagers from the area. The forced labor reported in interviews with IDPs indicated increased forced labor in road construction, with no food or pay given to the IDPs working on the roads. The Burma Army and DKBA kill and steal livestock from most of the villages that they visit. At least 700,000 Kyat worth of villagers' possessions were stolen or destroyed by the Burma Army or DKBA troops. Ten farm houses were burned to the ground and many in this area have recently moved into hiding because of the constant persecution by the Burma Army and DKBA.

On February 21, 2003, a combined SPDC and DKBA force attacked the villagers at Ti Baw Plaw, burning down villagers' field huts and cow fences. This attack disrupted the feeding of the cows and bulls during the difficult rainy season.

At 11am, March 7, 2003, a 35-year old Karen man was attacked by DKBA troops. He and a friend were visiting friends in a nearby village and the DKBA soldiers asked for money for alcohol from the two men. They gave them 300 kyats, and started to leave, when the troops beat the man in the head until he started bleeding.

Please pray for the Pa-an District, Karen State, and all of Burma. The IDPs need immediate and long-term help to ensure their security and give them any hope for the future. The Pa-an FBR team thanked those who helped give them security and assistance while on their trip.